A lot of my friends go on and on about how good the burgers and fries are at Five Guys. I put it on my to-try list but never go out of my way to eat there. To be honest, maybe I'm avoiding it because I'm scared that it will be SO good that I WILL start going out of my way to eat there. I spent the day with my gentlemen, Kenneth and Chhally, because they wanted a small photo session and we planned to go thrifting!! More on that later!
Here goes my review for Five Guys.
When we walked in, we noticed right away that their kitchen was an open kitchen. You could see the tables they worked on, where they kept the toppings, fries, the deep fryers, everything. The kitchen and burger assembly areas were clean and organized. Their menu is pretty simple, an array of burgers (double patties) and a section of little burgers (single patties) and all of the free toppings you can handle!
Kenneth and I ordered a Little Hamburger with bacon and cheese. Lettuce, grilled onions, ketchup, mayo, pickles.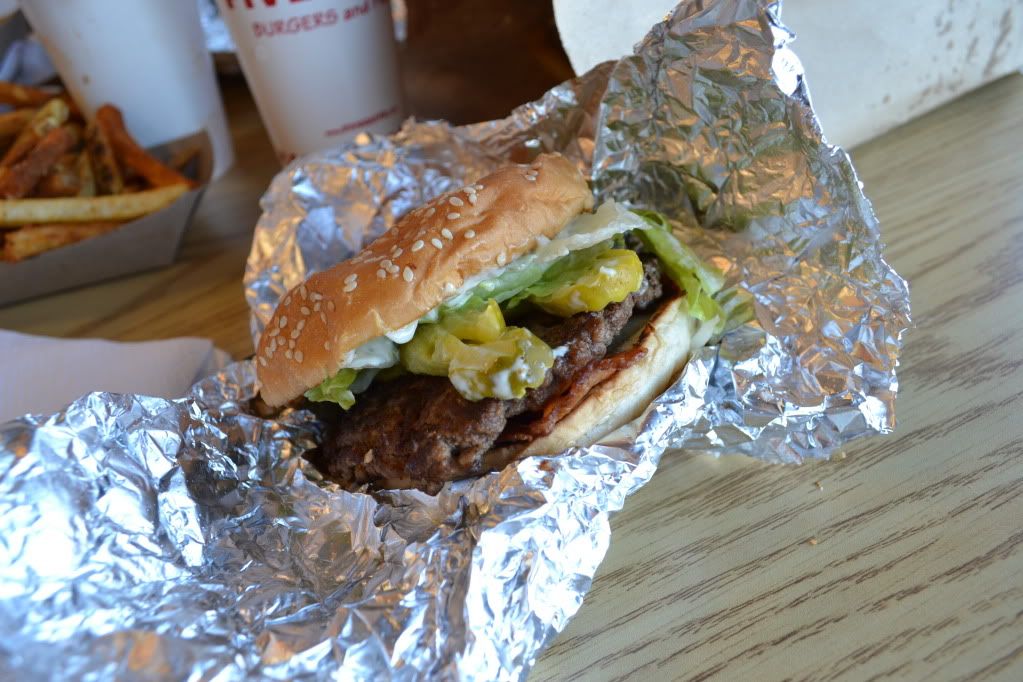 By no means is the Little Hamburger little! It's a regular sized burger, just with one meat patty.
Chhally ordered a cheeseburger with the works. BOOM!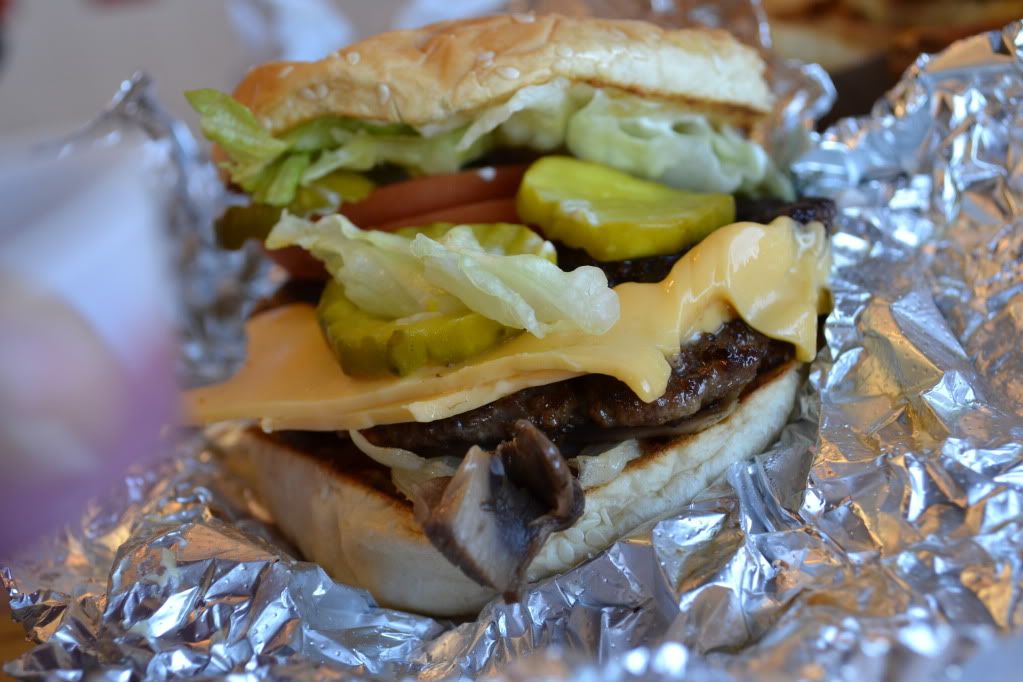 We also ordered cajun fries and regular fries.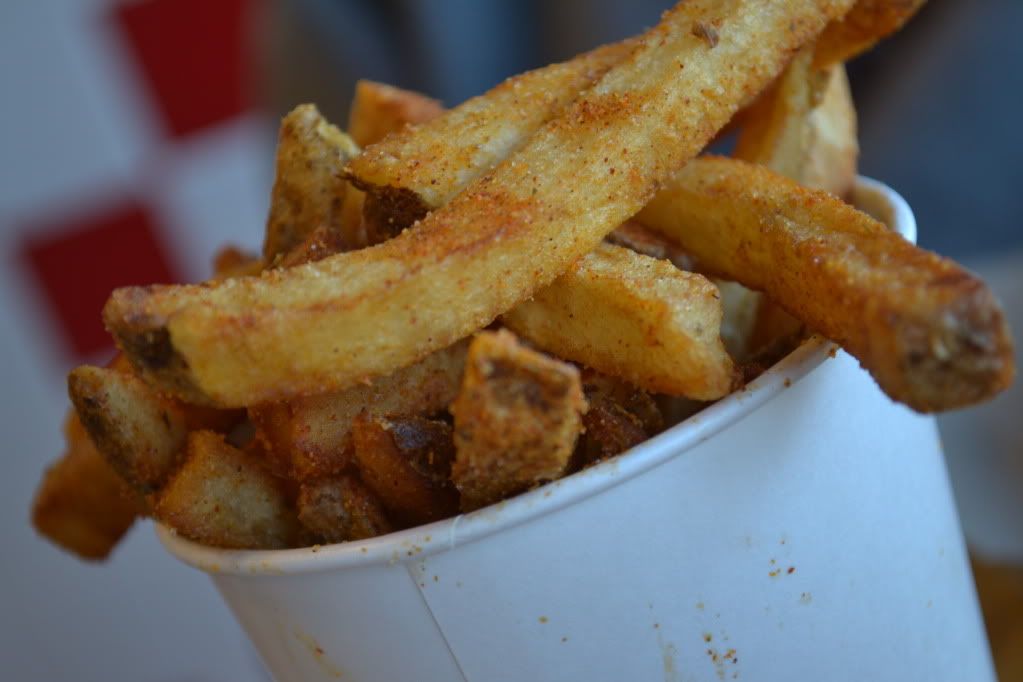 They filled half this bag up with fries!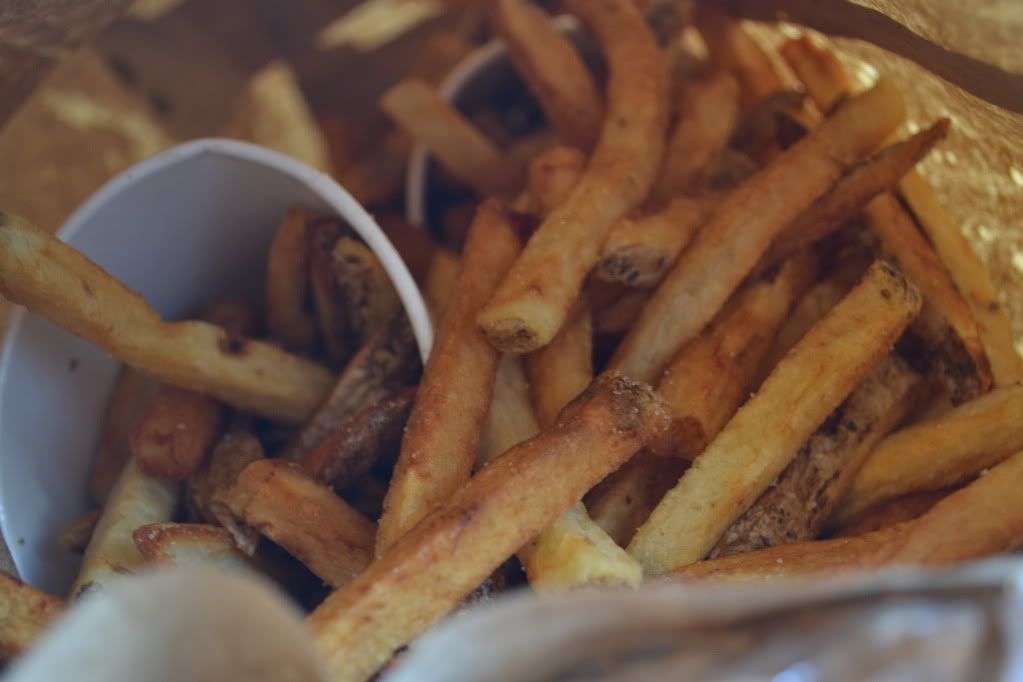 Portions were generous and the burgers were well made and delicious! Toppings were surprisingly fresh and the meat was perfectly cooked. I would definitely go back.
Beverage choices are really good, too! They even had Green tea and Black tea. While we waited for our order, they started cooking. We watched one guy prepare our food and, personally, I enjoyed watching the food being made. I feel less guilty about eating a burger when it's made fresh and you see it being made properly right before you.
Oh, and free all you can eat peanuts! There's open boxes of peanuts all over the dining area with scoops. We helped ourselves to a cardboard bowl of peanuts and munched while we waited.
Overall, friendly service. Quality "fast" food. Huge portions, but a bit pricey. For what we ordered, the total came out to $30. But still definitely recommend!
Thrifting
refers to the act of
shopping
at a
thrift store
,
flea market
,
garage sale
, or a shop of a
charitable organization
, usually with the intent of finding interesting items at a cheap price.
I've never been thrifting before. I started following
A Beautiful Mess
and a lot of the outfits she posts are
Über
cute. There are pictures of outfits and little tag lines of where each piece was bought and how much. Most of the REALLY cute pieces were thrifted for less than $3. A shirt, $1. A dress for $2.50. Shorts for $2!
Not in my generation! We buy things at the mall and pay upwards of $24 for one shirt and $56 for jeans. Thrifting is simply... unheard of. -____-
So I invited my uncle, he goes by the name of Chipmunk, to come thrifting with us. He is an expert. And when we phoned him, he was excited. First stop on our thrift day, Value Village Thrift Store. Located on the Southside of Milwaukee on 27th street in a sketchy neighborhood, but Chipmunk ensured us that we'd find goodies here. I beeped my car's alarm on and in we went! Right away, Chipmunk found a pair of grey corduroy jeans for only $3. I was still standing at the front door, trying to get my bearings. Chhally, Kenneth, and I inched our way inward and perused through the aisles. Not really touching anything, just looking.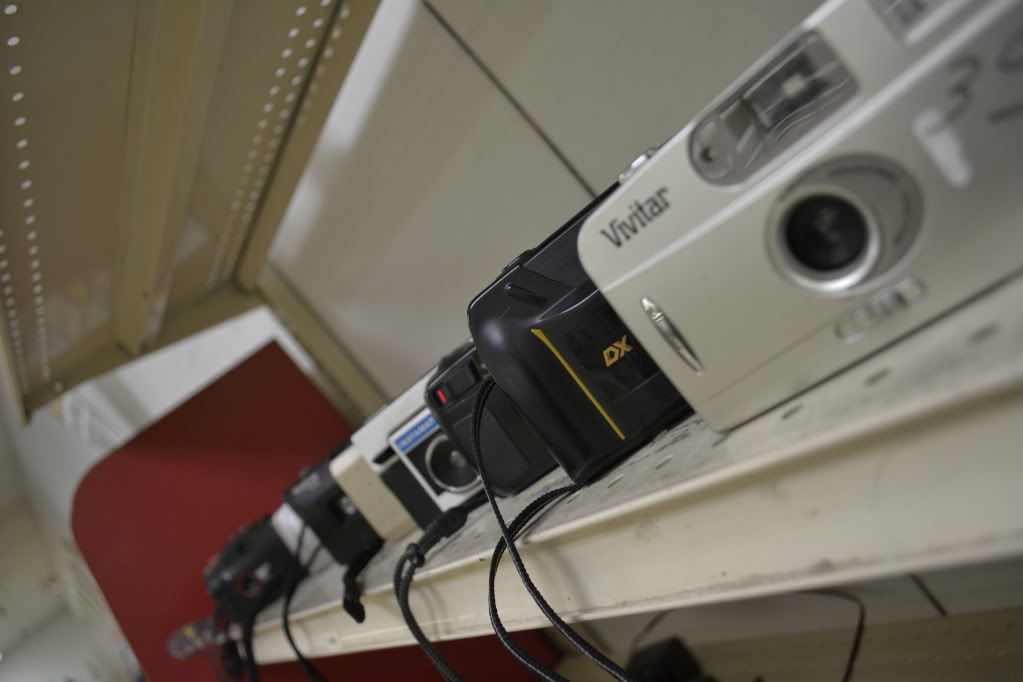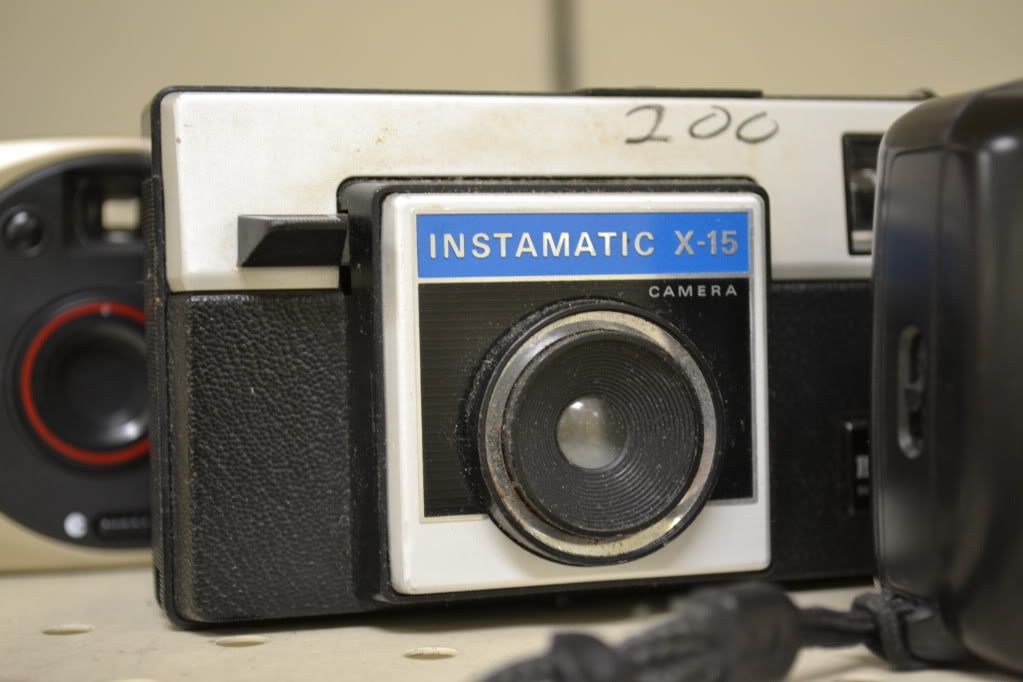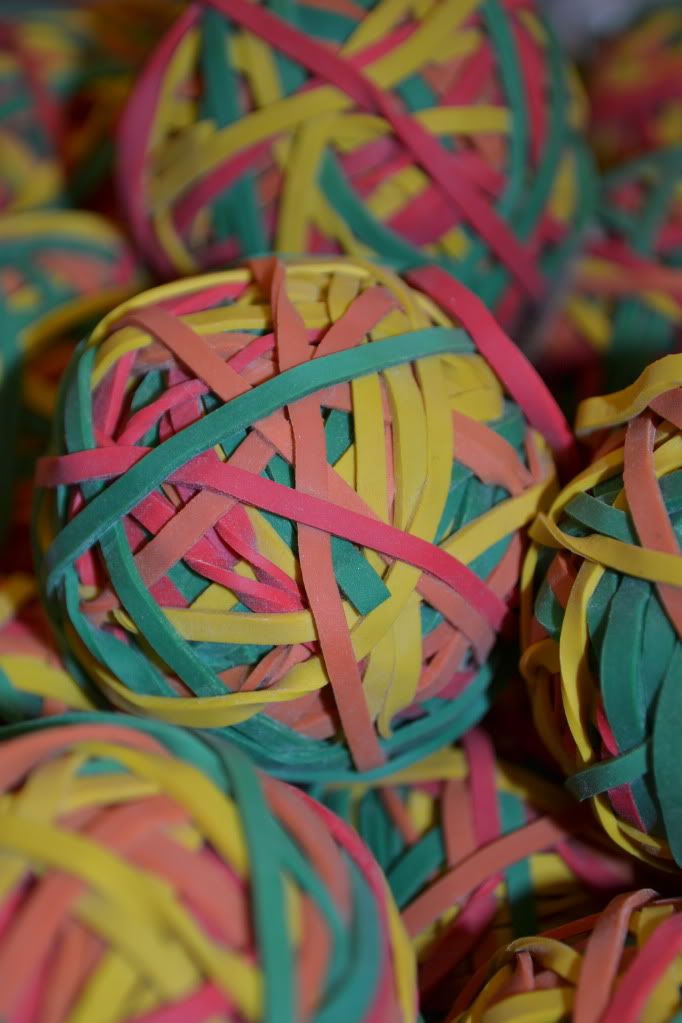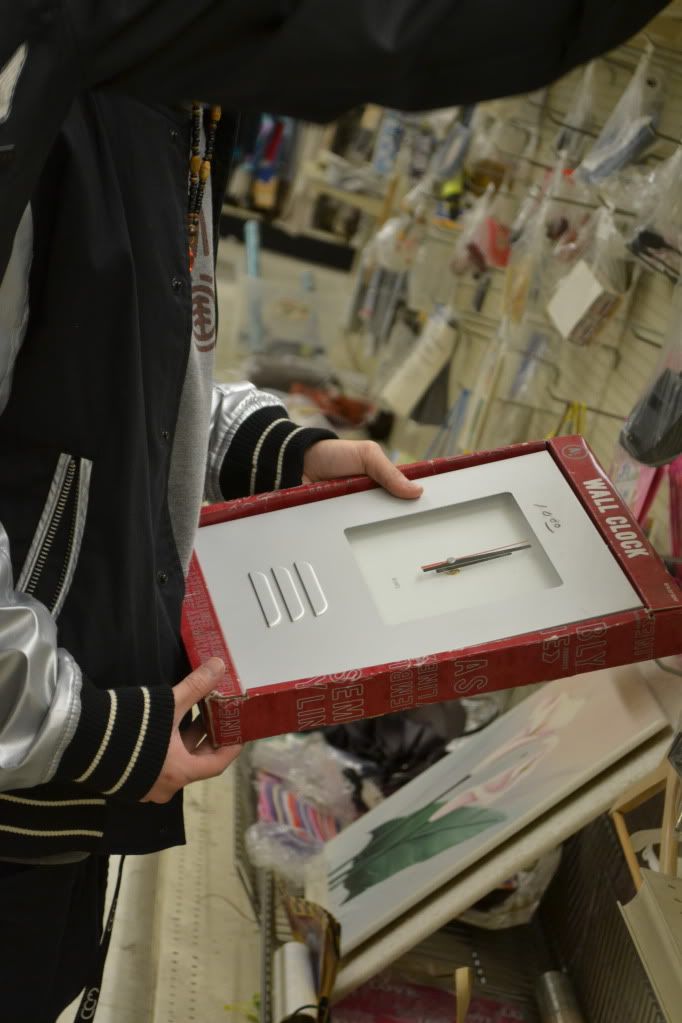 I pulled out a shirt and looked at it. "This is really pretty, but I don't know if I'd get it," I said.
"You might as well. It's only $1.20," said my brother. Boom! My mindset has been transformed. He was soo right. What did I have to lose in buying it? It was only $1.20! Usually when I shop, prices are too high to buy if I'm unsure about things but just low enough that I have to consider it. At the thrift store, I could actually get it if I really wanted it and didn't have to debate with myself. This got the ball rolling.
I got 3 shirts, for $6.
Then we went to Goodwill in West Allis.
Chhally found a Miller shop shirt.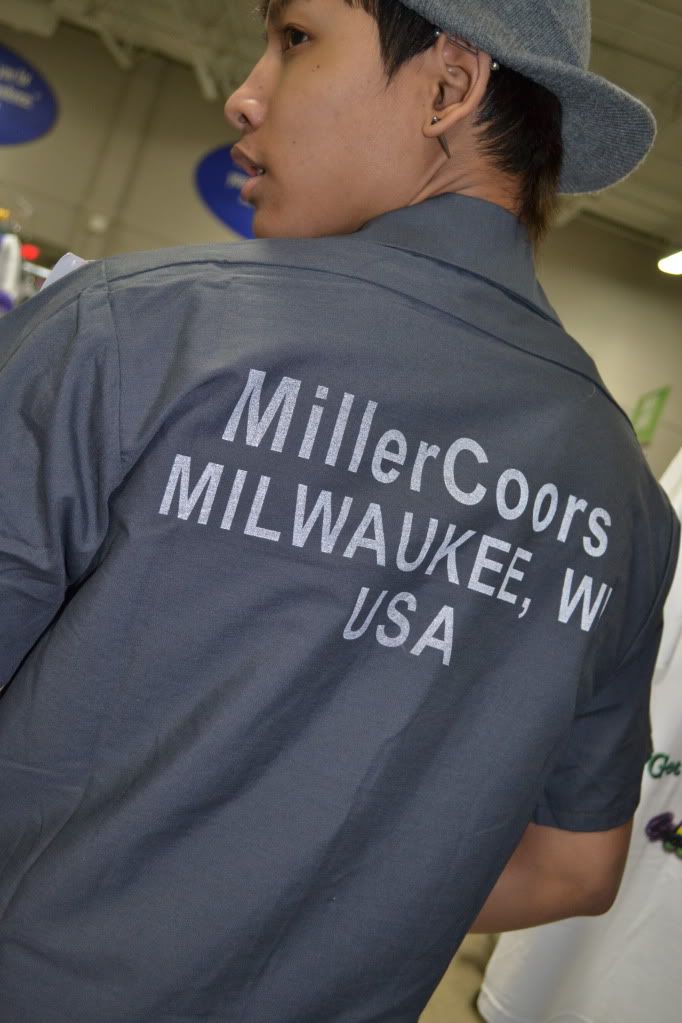 I found a cardigan!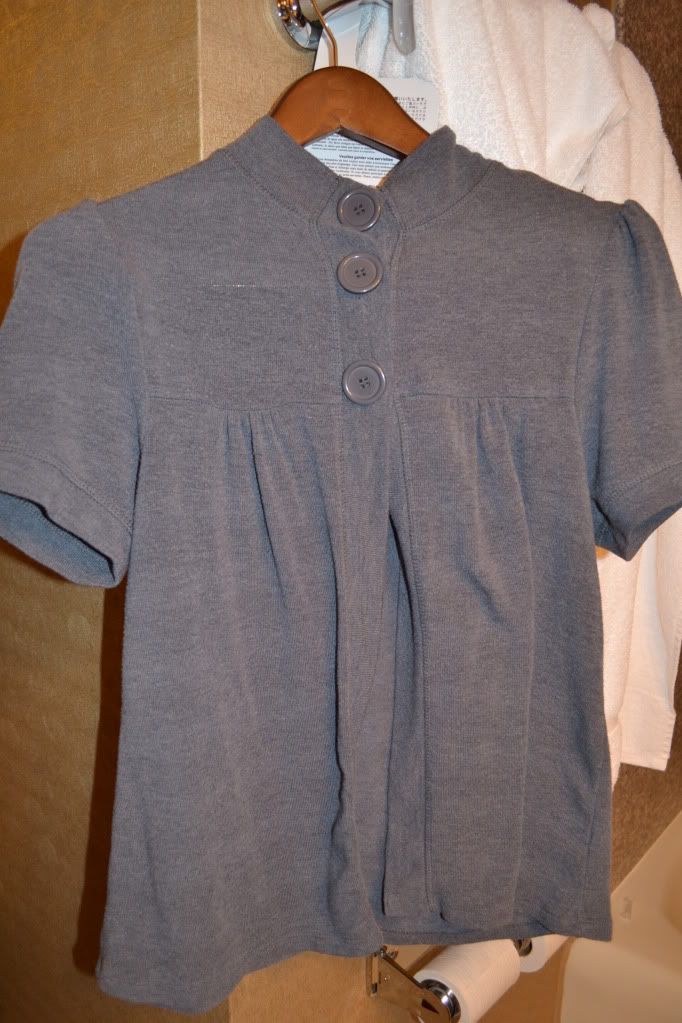 And the guys tried on ugly Christmas sweaters!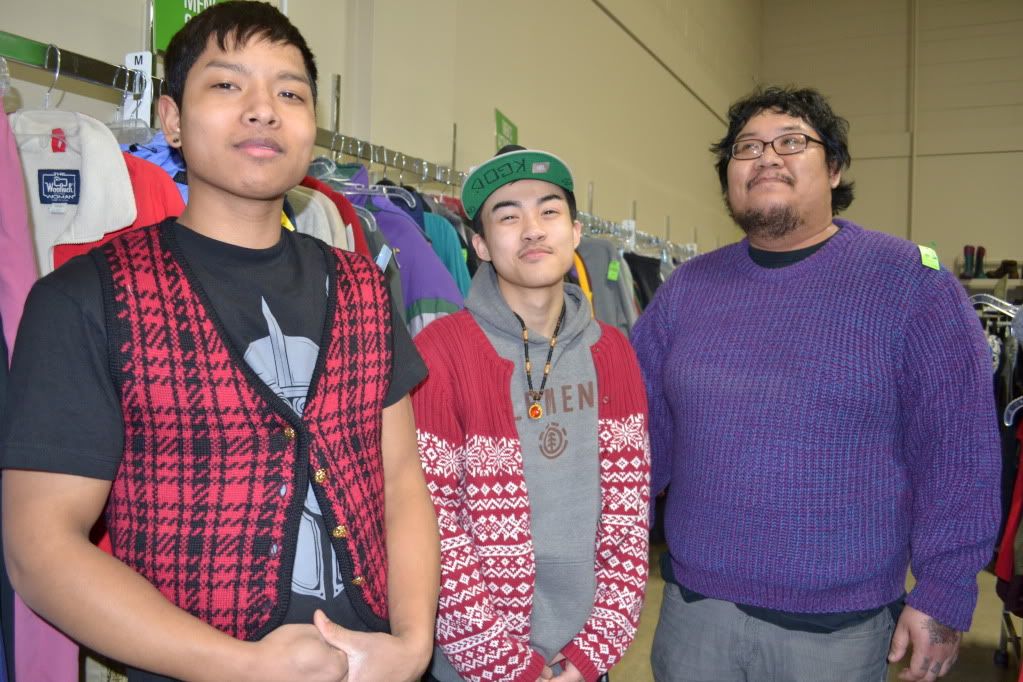 Other random finds throughout the day: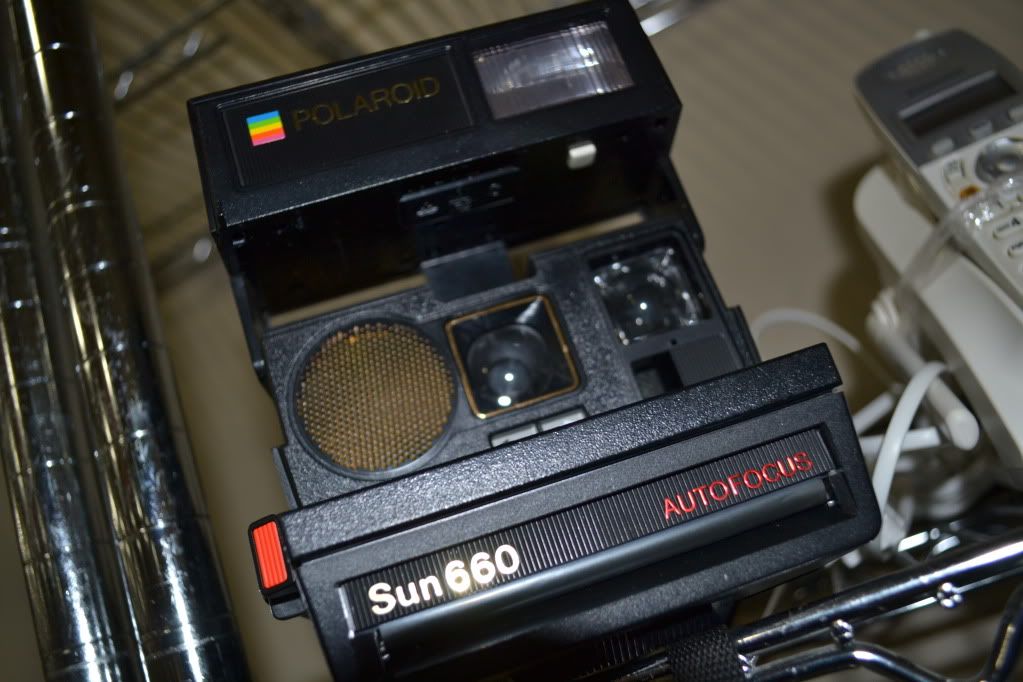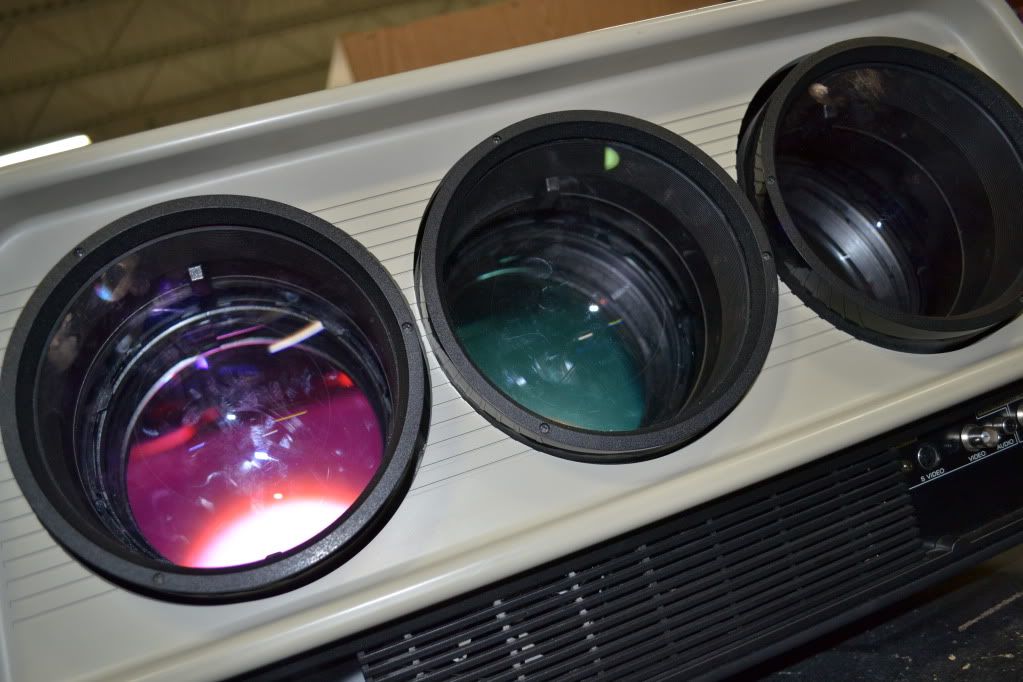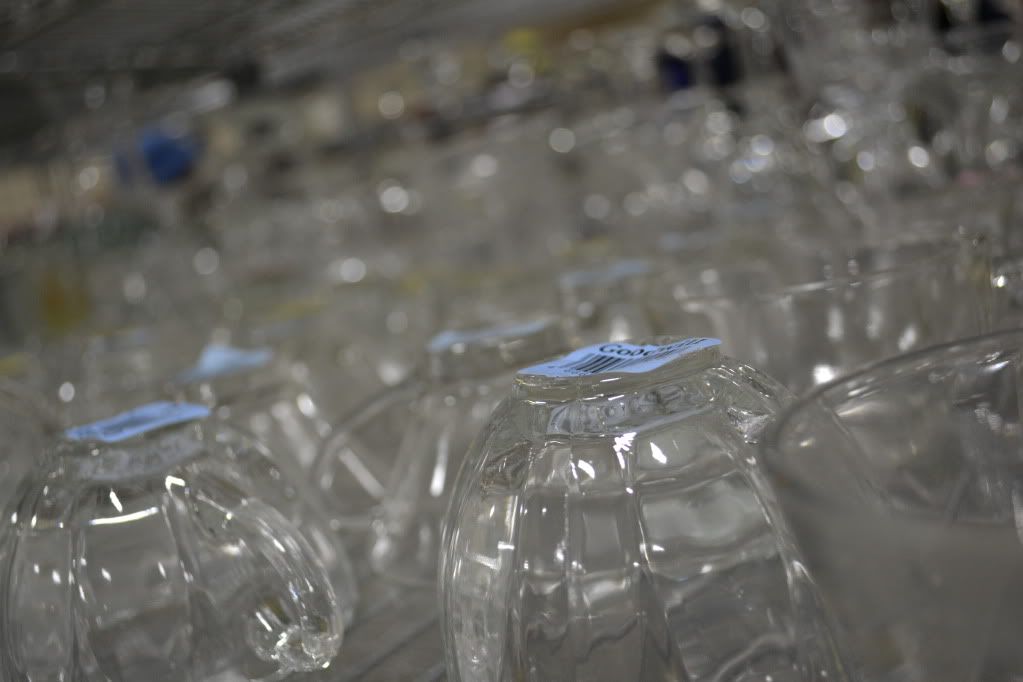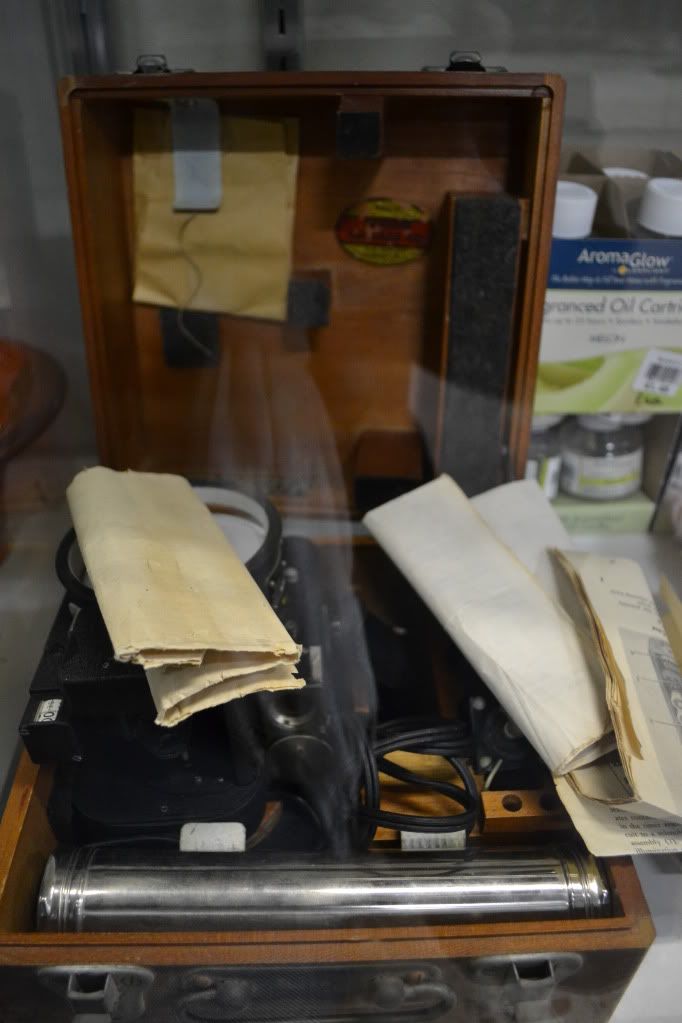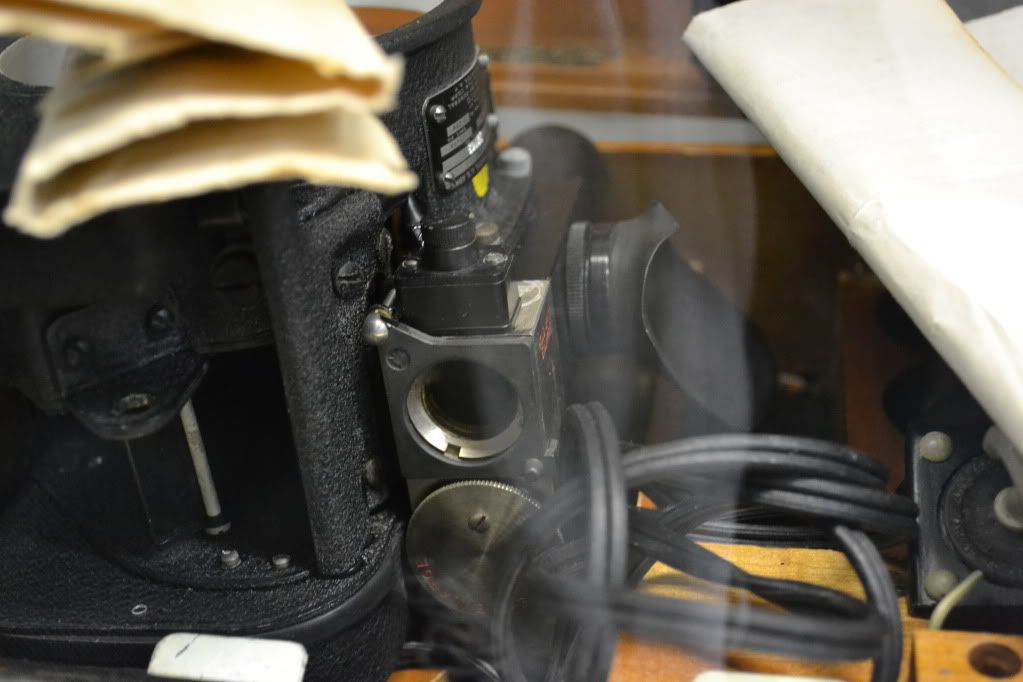 xoxo Vicky